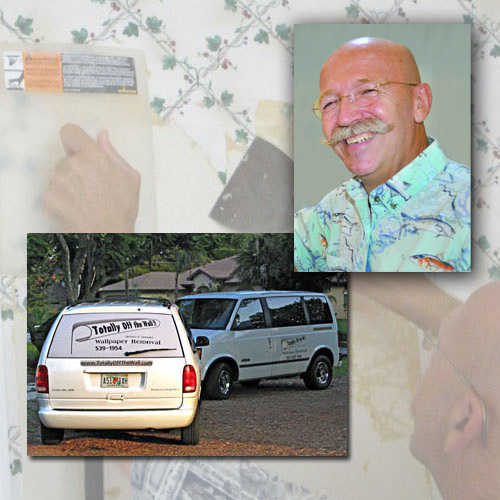 Totally OFF the Wall !!
Quality Wallpaper Removal
Wallpaper Removal Service in Florida Servicing:

Sarasota, Manatee County, Port Charlotte, Ft. Myers, Naples, Charlotte County, Lee County, Tampa, St. Petersburg, Hillsborough County, and Pinellas County.
Dear Potential Client:
Whether you were searching the Internet for wallpaper removal, wallpaper removal cost, wallpaper removal estimate, wallpaper removal near me — or you wish to try and remove wallpaper, wallpaper border, wallpaper paste or wallpaper glue yourself, I'm happy you landed on my website Totally OFF the Wall !!
If wallpaper removing is a first-time experience and you are simply wondering how do I remove wallpaper or remove a wallpaper border, I assure you that you need not worry –– as, I know how to tackle even the most difficult wallpaper removal jobs and am the area's best-known wallpaper removal and wallpaper border expert. Sometimes we even need to use a wallpaper removal steamer for wallpaper border removal! With 40+ years experience in wallpaper removal, you have an expert at your fingertips. In fact– I wrote the book on it!
Wallpaper removal estimates and services are provided for the areas listed on this page. Not living in any of the local counties listed? No worries. As of 2019, I now offer wallpaper removal tips through a series of wallpaper removal videos as well as wallpaper removal books and wallpaper removal coaching by telephone or by videophone! We can even tell you how to put together a wallpaper removal kit of basic wallpaper removal tools.
Please click on any area of interest below and view my references. I sincerely hope to add YOU to my reference list in the future!
Here the latest Angie's list review:
The project went very, very well.  Michael gave me an estimate of 4 days to do the work and made sure the work was indeed completed in 4 days, at the price initially quoted.  Paper was completely removed, walls cleaned (all glue gone) and initial spackle work on the wall provided as well.  Michael kept the muss and disruption to an absolute minimum.  At the end of each work day, all the ladders, tools and supplies were neatly and unobtrusively stored. floors swept and work areas cleaned  Arrival for work in the morning, and lunch breaks all occurred with perfect punctuality.  Michael often stayed later than quitting time to assure the 4 day contract term was met, not just met, but met to his perfectionist standard.  Micheal is a very pleasant person, easy to deal with, knowledgeable  and highly adept at many techniques of wall paper removal.  My hopes of having so much dated wall paper removed quickly and thoroughly were completely fulfilled in this contract with Totally Off the Wall.  He completely deserves my A rating.   I would not hesitate to give Michael and his firm the highest recommendation.
Find more testimonials below. Click on the + symbol of any area of interest to read pertinent references!
Excellence
admin
2019-08-06T19:45:18+00:00
Before writing this, I asked my husband what he thought of your work, and he said, "neat, efficient and pleasant".
Your team has been terrific! This is not an easy job, with 3,000+ square feet of wallpaper everywhere– on the ceilings, in indentations in the moldings; there isn't a place that wasn't wallpapered. It is transformed by the removal, and is ready to be painted with minimal effort!
Thank you and Susan and your staff for a great job!
Joan L. Sarasota

Michael:
Fantastic job – you sure set an extremely high standard for other contractors to reach for.
Safe, clean, cost-effective and outstanding quality.
We couldn't ask for anything more.
Ron and Ardythe B. Prestancia Sarasota

"I found Michael to be professionally very thorough –– with a personal touch –– it is obvious he takes pride in his work. It was a good experience in a field where dissatisfaction is the norm.
I highly recommend him."
Bob L. Tanglewood (Sarasota)

Michael,
We were very pleased with you and your team.
The workmanship was excellent and your men were careful, courteous, clean and efficient.
We recommend your firm highly.
Joe and Kaye B. Longboat Key

Michael,
You go way beyond all expectations. You are a gifted craftsman with the drive and devotion to achieve perfection every time.
Thank you and keep in touch.
Mike & Sarah Sarasota

As a Manager on Longboat Key, I sent out an S.O.S. to all other managers. Within 5 minutes, Michael's name came up with rave reviews. It is indeed a pleasure to call and get a human voice along with customer awareness. I know this will be the beginning of a long-term relationship.
Nancy Longboat Key

Michael did an outstanding job. He is very professional and his workmanship is of the highest quality.
His respect for the customer's property shows in the extra care he takes in preparing before removing wallpaper.
Michael came highly recommended to me by two friends, and I later learned that a third friend had used his services and was also delighted with his work.
My satisfaction is 100% and I will definitely call on Michael again.
Carol Manassas, VA

Dear Michael,
Thank you so very much for your integrity on the doctor's office job that my Design Company was working on. You went above & beyond your call of duty to help us out and we will not forget it.
We will use you on any upcoming jobs and highly recommend you to others.
Sincerely,
Kelly Boevé Bradenton Designer (941) 358-6316

To Whom It May Concern,
This is to acknowledge that Mr. Michael Haluska has removed wallpaper from my premises in a very professional manner. He worked in a clean and efficient way, cleaned up after the job was completed, replaced light and window fixtures in their original position and left me well pleased with the results.
Ich bin sehr beeindruckt von dieser zufriedenstellenden Arbeit.
I can recommend his work to anyone needing such services.
Very truly yours,
Inge Sarasota

Dear Michael Haluska,
Both Patricia and I would like to take this opportunity to convey our thanks for a job well done. You went beyond just removing wallpaper, which in itself was a very difficult job – more than one layer.
You also corrected a mildew problem, repaired the surfaces of the wall, cleaned up the mess, protected surfaces in the surrounding areas, and on and on.
It is very hard to find tradesmen that take pride in workmanship and are dedicated to excellence, like yourself.
Both Patricia and myself thank you.
John & Patricia Bradenton

Michael was prompt, professional, neat and did a great job removing very difficult wallpaper. No complaints! Great job!
Fixed price of $1.00 per square foot compared favorably with the $65.00 per hour I was also quoted from another person.
Beth McLean, VA

Michael,
In all my years of being a landlord of multiple properties, I have "NEVER" dealt with a more reliable, efficient, dedicated perfectionist as you.
Your work and work ethic are off the chart. You truly are one in a million. I know because I am a realtor and as previously mentioned, a landlord. I deal with workers, service people and contractors. You are just the absolute greatest worker I have Ever seen!
Thank you for a fantastic job and for being so NEAT.
Jane Sarasota

"A Gold Medal Job. (Michael was) extremely conscientious (in) doing everything to the highest standard. We had a challenging home of wallpapers and borders to remove and you did an outstanding job. (Michael was) polite, well-mannered, meticulous to detail and respectful to the property. The clean up… was also worthy of praise."
Thank you
Patricia and Jerry B. Port Charlotte

"Five-Star job in every way and it was a delight having you around! Feel free to use us as a reference anytime…"
Karen W. Myakka

"Michael was referred to us from a Design Center out of Port Charlotte. We had used two other wallpaper tear-down people prior to Michael and we had no luck with them and the job they had done was (of) poor quality. Michael came in and we were so pleased. He was very courteous, honest, and a very clean worker. We were truly amazed at his workmanship and his professionalism. We have already told many people of his work. He is certainly building a great reputation for himself and his work."
Thank you Michael
Bill and Retina R. Venice